---
"The liberation of those being oppressed is initially if not only, the work of the oppressed themselves [... ] the oppressors could not play the same role in the liberation fights than the oppressed "
---
AFRICAN WOMEN ORGANIZATIONS AND MOVEMENTS.
---
---
NEWS
---
---
The first African woman elected president, pledged to fight corruption and create jobs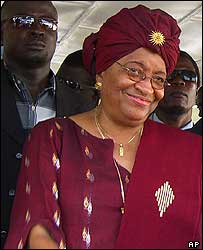 Source: BBC
Liberia's president-elect has pledged to make women across the world "proud", after becoming Africa's first elected female head of state.
Ellen Johnson-Sirleaf said her election victory had "shattered the glass ceiling theory". Addressing the nation after her win was confirmed, she promised to usher in a new era after 14 years of war....More
---
The first African woman to win the Nobel prize

Friday, 8 October, 2004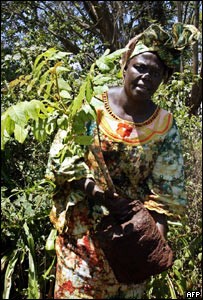 Kenyan ecologist . Wangari Maatha wins Nobel prize.
Source: BBC
Wangari Maathai is the first African woman to win the prize . Kenyan environmentalist and human rights campaigner Wangari Maathai has won the Nobel Peace Prize.
She is the first African woman to be awarded the peace prize since it was created in 1901. A surprised Mrs Maathai broke the news to reporters minutes before the official announcement. The prize committee says Mrs Maathai, Kenya's Deputy Environment Minister, is an example for all Africans fighting for democracy and peace.... More
---
Divorce divides Morocco and W Sahara

By Pascale Harter
BBC correspondent in Rabat
A new family code in Morocco, known as the Mudawana, is having differing effects on women's rights in the Islamic kingdom and the disputed territory of Western Sahara, which falls under Moroccan rule. For Fatima in Morocco, the law allowed her to leave her husband when he beat her last month.
He had beaten her before, but this time Fatima told him: "The King says you can't beat me anymore"...More
---
SPECIAL TOPICS
---
Are women the key to African growth?
Women make a big contribution to Africa's economy
---
"Unless women are liberated from their existing perception of themselves as weak, inferior and limited beings, no amount of external interventions -
whether in the form of resource access or economic power - will enable them to challenge existing power equations in society, the community or the family"
Batliwala
---
Is domestic violence a silent killer?

A report by Amnesty International says at least one out of every three women in the world has been beaten, coerced into sex, or abused in her lifetime.
---
LET US FIGHT GUILTY SILENCE
LET US NOT BE WITNESSES IN SILENCE
Together it is possible
Send us your concerns and articles for publication on this site.
Contact us for details
---
Facts
In the two decades since its outbreak, HIV has infected more than 60 million people, and AIDS has caused the deaths of more than 20 million people. The pandemic has shattered lives and left families destitute. More than 14 million children have been orphaned by HIV/AIDS, and that number is expected to more than triple by 2010.
In the developing world, AIDS is reversing development by cutting down men and women in their most productive years and eroding the social and family structures. Today, more than 95 percent of the estimated 40 million people infected with HIV/AIDS live in the developing world. With already scarce health care resources, poor countries often lack the means to battle AIDS through prevention and awareness programs. As professionals -- teachers, doctors, engineers -- are stricken, they become unable to contribute to the development of infrastructure and the function of civil society. Education, a tool essential for development, is being compromised by a dwindling supply of both teachers and students -- particularly girls who must care for their younger siblings when a parent dies or becomes ill from the AIDS virus. Consequently, the impact of AIDS and the potential for future damage to societies and economies in the developing world is particularly devastating. More
---
HIV /AIDS links
AEGIS (AIDS Education Global Information System)
http://www.aegis.com
CNN: Special Reports on AIDS
http://www.cnn.com/SPECIALS/2000/aids/
Family Health International http://www.fhi.org
HACI
http://www.hopeforafricanchildren.org
UNAIDS
http://www.unaids.org
---
'Women must take a lead against HIV'

Ludfine Anyango (contracted HIV from her husband) is an HIV positive activist, who runs ActionAid's Aids programmes in Kenya. She believes that big International conferences like the one currently drawing to a close in Bangkok have an important role to play in the fight against the epidemic. But she is also convinced that we must constantly reassess their worth, particularly in relation to women's rights...MORE
---
Feminization of AIDS: Ten Unavoidable Choices for African Leaders
By Dr. Chinua Akukwe


The UNAIDS report on the HIV/AIDS pandemic highlights the growing rates of infection among women worldwide. Women now account for nearly 50% of all individuals living with HIV/AIDS worldwide. However, in Africa, the situation is more ominous...Read more
"I am not really free if I deprive someone else of his freedom. The oppressed and oppressor are both dispossessed of their humanity"
Nelson Mandela
---
" ...We are not free if our mothers are not free"
Theresa Mary Solomon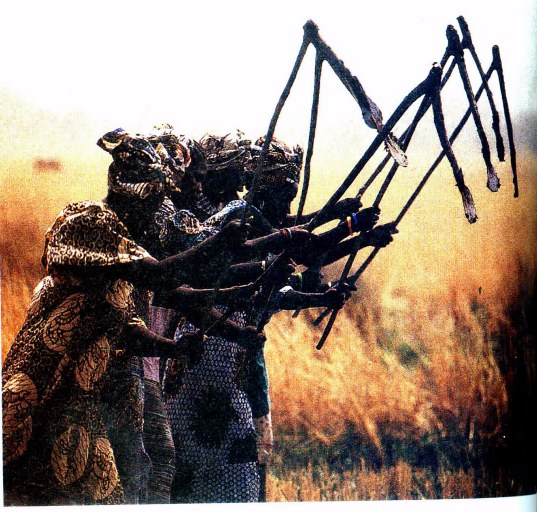 Empowerment is, first and foremost, about power, changing power relations in favour of those who previously exercised little or even no power over their own lives.
---
---
OUR UNDERSTANDING AND ACTION TOWARDS EFFICIENT AFRICAN WOMEN EMPORWERMENT
INAEDAD-RIEASDA
Ottawa, Canada
Reference consulted
* Gita, Sen, Empowerment as an approach to poverty, Working paper series, Number 97.07, December 1997.
---
MONTREAL PRINCIPLES
ON WOMEN'S ECONOMIC, SOCIAL AND CULTURAL RIGHTS
Sex or gender inequality is a problem experienced primarily by women. The systems and assumptions which cause women's inequality in the enjoyment of economic social and cultural rights are often invisible because they are deeply embedded in social relations, both public and private, within all States. Acknowledging this systemic and entrenched discrimination is an essential step in implementing guarantees of non-discrimination and equality.....Read More
---
INFORMATION AND IMPORTANCE OF DEMOCRACY
INFORMATION = KEY FOR EMPOWERMENT
"A crucial aspect of poverty is poverty of information"
DEMOCRACY = NECESSITY FOR EMPOWERMENT
* Gita, Sen, Empowerment as an approach to poverty, Working paper series, Number 97.07, December 1997.
---
PEACE, RENAISSANCE AND AFRICA'S DEVELOPMENT CAN NOT BE ACHIEVED WITHOUT WOMEN
Parts extracted and adapted by INAEDAD-RIEASDA from Thomas Sankara Speaks. The revolution cannot triumph without the emancipation of women, march 1987 as published in a
---
pamphlet in Ouagadougou in 1987.The Burkina Faso Revolution 1983-1987..
NUTRIENT ADEQUACY OF EXCLUSIVE BREASTFEEDING FOR THE TERM INFANT
DURING THE FIRST SIX MONTHS OF LIFE
(pdf files)
DEPARTMENT OF NUTRITION FOR HEALTH AND DEVELOPMENT
DEPARTMENT OF CHILD AND ADOLESCENT HEALTH AND DEVELOPMENT
WORLD HEALTH ORGANIZATION
---
Exclusive breastfeeding is best in all cases
Sufficient political will to support and encourage exclusive breastfeeding would provide the potential to improve the health and survival of all babies, regardless of the HIV status of their
mothers.
Bulletin of the World Health Organization 2002, 80 (7)
(pdf files)
---
ZAMBIA EXCLUSIVE BREASTFEEDING STUDY
"The primary intervention for this study is a culturally appropriate and sustainable breast-feeding education and support program based in community health centers. The goals of this education and support program are too encourage strict exclusive breast feeding i.e. breast feeding in complete absence of water, other liquids or foods to 4 months of age and to encourage abrupt weaning at 4 months of age to exclusive replacement feeding"...Read More.
---
COLUMN ON ORGANIZATIONS AND MOVEMENTS OF THE AFRICAN WOMEN
The RIEASDA publishes in this column articles extracted from certain newspapers or reviews concerning activities related to organizations and movements of African women or committed points of views of women on effective empowerment of the African women. Reactions or comments (see our code of conducts) likely to bring constructive changes to these organizations will be published on our site and addressed to the concerned organization for full consideration and action. We encourage panafrican organizations and movements.
---
The African Center for Gender and Development (ACGD) is part of the Division of Economic
Empowerment of Women in the United Nations Economic Commission for Africa (UNECA)
based in Addis Ababa, Ethiopia.
Hilda Tadria, formerly Associate
Professor of Sociology at Makerere University in Uganda and co-founder of the African
Women's Development Fund, is senior regional advisor for ACGD. She was interviewed by the
Development Gateway about the outlook for achieving gender equality in Africa.
Q: What are the biggest challenges in achieving gender equality and women's empowerment in
Africa?
A. I have worked on issues of gender equality and women's empowerment in Africa for the last 20 years. In my view, the biggest challenge is overcoming socially accepted cultural beliefs and ideologies that emphasize male dominance. These beliefs legitimize gender inequalities and tolerate a culture of gender-based violence in which women's rights are abused and ignored, no matter what contributions women make. Traditional African culture does not accept—and cannot survive—in a context of gender equality...More
......
Formed in 1995, the Black Sash began as a women's anti-apartheid movement, fighting apartheid through protest vigils, marches, and the operation of advice offices for those deprived of basic human rights. Now working as a registered non-profit organization dedicated to poverty relief, the Black Sash is active in securing basic human rights and ensuring that governments meets its obligations to the poor in South Africa.
---
50 Years Is Enough: U.S. Network for Global Economic Justice is a coalition of over 200 U.S. grassroots, women's, solidarity, faith-based, policy, social- and economic-justice, youth, labor and development organizations dedicated to the profound transformation of the World Bank and the International Monetary Fund (IMF). The Network works in solidarity with over 185 international partner organizations in more than 65 countries. Through education and action, the Network is committed to transforming the international financial institutions' policies and practices, to ending the outside imposition of neo-liberal economic programs, and to making the development process democratic and accountable. We were founded in 1994, on the occasion of the 50th anniversary of the founding of the World Bank and IMF. We focus on action-oriented economic literacy training, public mobilization, and policy advocacy...More
---
GLOBAL CONGRESS OF BLACK WOMEN LEADERS
2nd Annual Session
"Africa meets the Americas"

Houston
21, 22, 23 July 2005
Will you be there?
http://www.globalcongressofblackwomenleaders.org/
The mission of the Global Congress of Black Women Leaders, is to educate and inform Black Women about their value to the world in order to develop and promote their economic stability and influence through strengthened global connections.
---
Your voice could certainly make the difference. Sharing of your know-how or information could save lives in Africa and to be beneficial at a community. It is the condition of survival of our communities in needs.
LET US FIGHT GUILTY SILENCE
LET US NOT BE WITNESSES IN SILENCE
Together it is possible
Contact us for details
INAEDAD-RIEASDA

---
LET US FIGHT GUILTY SILENCE
LET US NOT BE WITNESSES IN SILENCE
Together it is possible
Send us your concerns and articles for publication on this site.
Contact us for details
---
---
PROSTITUTION FILES
AFRICAN WOMEN AND PROSTITUTION ABROAD: A SOCIAL SECURITY CONCERN.
OR
"Prostitution is nothing but the microcosm of a society where exploitation is a general rule. It is a symbol of the contempt men have for women. In the final analysis, it is the unconscious contempt we have for ourselves. We should see in every prostitute an accusing finger pointing firmly at society as a whole. Every pimp, every partner in prostitution, turns the knife in this festering and gaping wound that disfigures the world of man and leads to his ruin. In fighting against prostitution, in holding out a saving hand to the prostitute, we are saving our mothers, our sisters, and our wives from this social leprosy. We are saving ourselves. We are saving the world".
---
IN TRUTH
"The real wealth of a nation is its people. The aim of politics and the purpose of development is to create an enabling environment for people to enjoy long, healthy and creative lives. This simple but powerful truth is too often forgotten in the pursuit of material and financial wealth."
Those are the opening lines of the first United Nations's Human Development Report, published in 1990. The 2002 Human Development Report shows growing divisions between those who prosper in this new world -- and those who do not.
---